ASSESS Tab¶
The ASSESS Tab is meant to perform a yield assessment using extrapolation results from the EXTRAPOLATE Tab, and considering wake effects: The turbines absorb the energy contained in the wind and create wakes downstream of the rotors. One of the observed effects in the wake zone is the reduction of the wind speed. These wake effects are transported by the wind flow, and can then affect the wind energy captured by other machines downstream.
ZephyTOOLS extracts the Annual Energy Production (AEP) and other related results at each wind turbine based on user-defined parameters such as turbine models and ambient details.
Process options¶

Extrapolation File
Use the result from the EXTRAPOLATE process as the input of assessment.

Wake Model
Currently it is only possible to calculate the AEP without wake model or with Park Jensen wake model. This feature is meant to help users get fast but less accurate results of AEP. In the near future, Zephy-Science will integrate Actuator Disc feature to directly consider the wake effects in CFD calculations.
Wind Turbine Models
The user have to associate .wtg files to the project's wind turbines. It is possible to either set a single power curve for the whole farm, or to differentiate the turbine groups, or even each turbine individually.
Environmental Parameters
It can be set to a general value or a on-site value.

Mapping, Visualisation features
When Map is checked, the ISO-H visualizations are activated for the mapping areas.

When Visu is checked, the ISO-H visualizations are activated for the entire projected area.

Note

These options are only available if they were activated for the selected Extrapolation.
Visualizations¶
The EXTRAPOLATE Tab features Maps & Iso-Heights and Diagrams visualizations.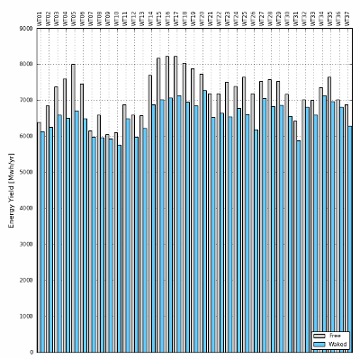 Click on the Results button to generate a bar graph showing the AEP for each wind turbine, with and without wakes.